Apartments Ipsos Corfu
Alexandra Apartments are some newly constructed and fully equipped apartments, situated near the centre of the beautiful island of Corfu, at Ipsos.
With the very reasonable price list, our luxurious facilities, our location next to the beach of Ipsos, and our close distance to the city of Corfu we can guarantee you the holidays you've always dreamt of!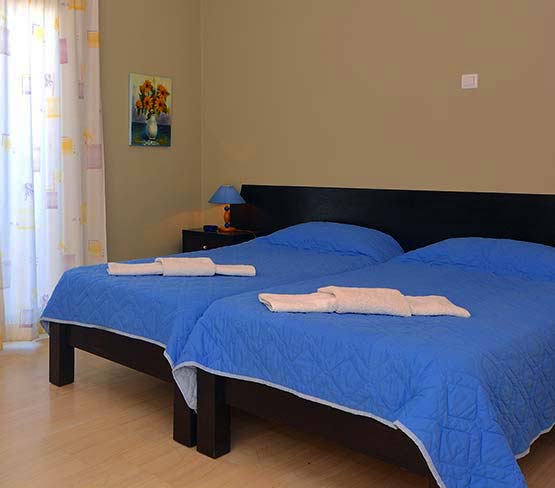 Book your holidays on the beach at Alexandra Apartments Ipsos Corfu!
Facilities
Alexandra Apartments at Ipsos, Corfu can offer you the holidays you've always dreamt of. Discover the beauty of our facilities and enjoy your holidays in Corfu.

Fully Equipped Kitchens

Free Internet

Satellite TV

Parking
Location bien placée au centre de l'île avec les accès à toutes les commodités.

Appartement très bien situé avec vu sur la mer ainsi que commerces et restaurants à proximité, nous avons été très bien accueilli par la famille d'Alexandra. De plus ils tiennent une épicerie juste en dessous, ce qui et très pratique. La terrasse est très agréable et le logement également. Très bon rapport qualité prix, à recommandé sans hésiter.

Das Apartement und vor allem die Dachterasse waren wirklich toll! Wir hatten einen sehr schönen Urlaub und konnten mit Blick aufs Meer frühstücken! Die Wohnung war sauber und durch die Klimaanlage auch gut gekühlt. Die Küche war etwas einfach ausgestattet, aber trotzdem in Ordnung. Der Kontakt zu Alexandra Apartements war stets gut und ohne Probleme. Wir würden jederzeit wieder herfahren.
Corfu is a Greek island in the Ionian Sea. Its Greek name, Kerkyra or Korkyra, is related to two powerful water symbols: Poseidon, god of the sea, and Asopos, an important Greek mainland river.
Situated at the beach of Ipsos Corfu, Alexandra Apartments can offer you luxurious facilities with an easy access to the sea!
Contact Us
Home